Comfort Taxi
Hotline: +65 6552 1111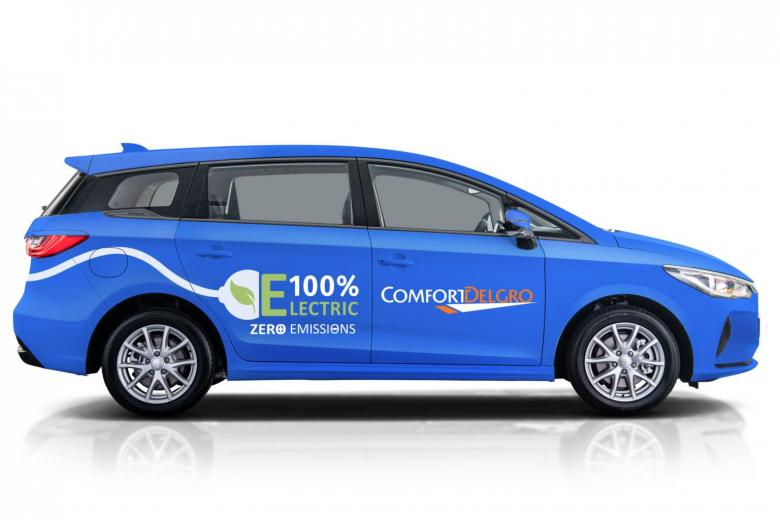 Address : 383, Sin Ming Drive Singapore 575717
Tel : 6555 1188
Fax : 6552 4125
E-mail : [email protected]
Approx. 10,592 blue comfort taxi cabs Over 15,000 ComfortDelgro Taxis in total (Comfort Taxi & CityCab) Color: Blue
Nissan Cedric
Toyota Crown
Hyundai Sonata CRDI
Mercedes-Benz E220 CDI (Presido)
Mercedes-Benz Vito 115 CDI (MaxiCab: 7-seater)
Comfort taxi and CityCab, both taxi cab companies belonging to ComfortDelGro Corporation Limited, are the largest players in Singapore's taxi industry with a combined fleet of about 15,000 taxis. The ComfortDelGro taxi booking system, arguably one of the best in the world, wirelessly connects the taxis using the General Packet Radio Service (GPRS) technology via the in-vehicle Mobile Data Terminals (MDTs). Today, its state-of-the-art Customer Contact Centre caters to over 20 million taxi bookings annually. more…
Established in 1970, Comfort Transportation ("Comfort") was then known as the Workers' Co-operative Commonwealth for Transport Limited with the aim to provide taxi drivers with a profession and better life. From its humble beginnings of 1,000 Morris Oxford taxis to its present fleet of over 10,000 taxis, Comfort has grown to become the largest of the two taxi companies that ComfortDelGro has. In Singapore, ComfortDelGro operates over 15,000 taxis under the brand names – Comfort and CityCab. Through the employment of technology and extensive training, the Group's taxi companies are leading the industry not just in Singapore but globally. In 2007, they catered to a record-breaking 20 million call bookings in one year.
From its humble beginnings of 1,000 Morris Oxford taxis in 1970, Comfort Transportation has since grown to become Singapore's largest taxi operator with a fleet of over 10,000 taxis. Comfort is also the first Singapore taxi company to provide toll-free Dial-a-Cab service in 1996.
CityCab was formed in April 1995 through a merger of three taxi operations, namely Singapore Airport Bus Services Ltd, ComfortDelGro (S.E. Asia) Pte Ltd (formerly known as SBS Taxi Pte Ltd) and Singapore Commuter Pte Ltd. Today, CityCab operates a fleet of more than 4,200 vehicles, which includes over 300 limousine cabs using Mercedes Benz vehicles.
In China, the Group operates more than 8,790 taxis through various joint venture operations in Beijing, Shenyang, Nanjing, Nanning, Shanghai, Jilin City, Chengdu, Hengyang, Suzhou, Xiamen and Yantai. The operations in Shenyang and Chengdu mark a shift in the Group's strategy of focusing on the coastal cities to growing our operations in the fast opening North-Eastern and Western regions of China.
In the United Kingdom, ComfortDelGro's subsidiaries, Computer Cab in London, Computer Cab (Edinburgh), Computer Cab (Aberdeen) and Merseyside Radio Meter Cabs in Liverpool operate a fleet of 4,500 radio taxis providing a first class service to local business and private customers. Computer Cab, the market leader in London, has four brands – ComCab, DataCab, Call-A-Cab and Local Taxis, each with a clear identity and providing a 24/7 service to the community.
In May 2006, the Group acquired Onward Travel Limited, a private car hire business in Edinburgh, Scotland. It has 160 owned-drivers on its circuit and operates an exclusive airport taxi rank concession from Edinburgh Airport.
Flightlink International Ltd is a private hire company based in Canary Wharf, London. It was acquired in July 2006 and is ComfortDelGro's first private hire operation in London.
In March 2007, the Group acquired another licensed taxi and private hire company in Birmingham. The company has since been renamed Computer Cab (Birmingham) Ltd.
The Group also operates a fleet of close to 600 taxis in Ho Chi Minh City, Vietnam by our Vietnam Taxi. The second taxi investment, a joint venture with Saigon General Service Corporation called ComfortDelGro Savico Taxi operates more than 300 taxis, a call centre, as well as a workshop which repairs and maintains the taxi fleet.
ComfortDelGro other business includes:
Bus
Rail
Car rental & leasing
Automotive engineering, maintenance services & diesel sales
Vehicle inspection & technical testing services
Learner drivers' instructional services
Insurance broking services
Outdoor advertising
Car dealership
ComfortDelGro Corporation Limited
ComfortDelGro is a public listed passenger land transport company, with a fleet of more than 38,700 vehicles world-wide. The Group has a global workforce, a global shareholder base and a global outlook. With their beginnings in the early 70s, Comfort Group and DelGro Corporation were both listed land transport companies. On 29 March 2003, ComfortDelGro Corporation was formed through the merger of the two. ComfortDelGro is listed on the Singapore Exchange.
ComfortDelGro's businesses include taxi, bus, rail, car rental and leasing, automotive engineering and maintenance services, inspection, test and assessment services, learner drivers' instruction services, insurance brokerage services and outdoor advertising.
SBS Transit Ltd and VICOM Ltd are subsidiaries listed on the Singapore Exchange. SBS Transit is Singapore's largest public bus transport operator with a fleet of more than 2,400 buses, as well as urban rail operation, serving more than 2 million passengers daily. VICOM provides inspection, test and assessment services. The Group is also Singapore's largest taxi operator with more than 17,000 taxis.
The Group's overseas operations currently extend from the United Kingdom and Ireland to Vietnam and Malaysia, as well as across 12 cities in China, including Beijing, Shanghai, Guangzhou, Shenyang and Chengdu.
Comfort Taxi / CityCab Review
by Jasmine Teo, The Straits Times
Comfort Taxi / CityCab (ComfortDelgro Taxi) 15,000 cabs and 110 operators Tel: 6552-1111 Call service: No problems getting through the hotline and being assigned a cab, especially for regular customers.
My calls were picked up almost immediately.
The system first directs all calls to an automated phone operator which gives you a choice from your last two pick-up locations, and this saves you one step in the process.
When I did speak with the customer service assistants on the line, it was a quick and painless experience.
All were polite and addressed me by name. Either way, cabs were assigned swiftly in under three minutes every time.
Punctuality: Two minutes was all it took for most of the cabs to appear at my pick-up location.
The longest wait was five minutes, but still well within the stipulated waiting time of five to seven minutes.
Verdict: While one middle-aged cabbie was more than happy to engage in chit-chat about ERP and quirky customers, the rest were silent on the journey, except to ask for my preferred route – something that all the cabbies made an effort to do.
Rating: *****
Comfort Taxi Review
iYeb, Yebber 29 Aug 2007 at 2:36 pm
Not sure about you, but personally I find that the taxi by Comfort is getting more spacious (the newer cabs). There are more leg room now for passengers sitting behind.
My impression of the Comfort cabs in general is pretty ok. Apart from the few who drives either too recklessly, overtaking without signaling and driving as if he was rushing to the toilet or something. The other extreme, usually the older drivers, is to drive super slowly and stays in the left lane on expressways.
There was once incident when this old skinny uncle driver drove like 60km/h when there were no vehicle infront of him! And he drove at the same speed all the way from Harbourfront to Hougang! Can cry I tell you! And it was quite an old cab so the air-con isn't working well. With the heat started by the speed, I was sweating half way through the journey. That was the worst journey I had on a cab. (And I hope it'll be my last too.) Do you have similar encounters too? Or was yours better?
Rating: ***
Samoh, Yebber 09 Dec 2007 at 2:59 am
The Lead that bring taxi price hikes,….. sigh…. they are proposing another increase in taxi price this month n this will be starting the following week…. I am not sure whether it will affect most singaporean… but i will affect me alot….
Rating: *
Christy, Yebber 21 Dec 2007 at 12:11 am
Hey, guys, let's not be so hard on the taxi drivers will you?
They are just trying to earn their keep. And unlike the good old days, taxi drivers nowadays have to slog like a horse just to pay their rentals and for their diesel.
It is one job that the employees have to pay their employer just to start working. It is one job that does not provide paid medical leave, CPF and working benefits, as well as, a stable income. It sounds to me like a horrible job given the amount of money taxi drivers are earning now and the attitude they get from irate customers. Even though I am not particularly glad about the increased taxi charges, I realized that it is only inevitable. How do you want taxi drivers to live if amongst all of these inflation and increased costs, they do not get to charge higher prices?
Spare a thought for them. If you want good taxi service, hop in the taxi with a smile, give clear directions and make polite conversation. Never forget to say thank you to the taxi driver once you reach the destination. It worked for me every single time.
Rating: ****
Kinshen, Yebber 01 Jan 2008 at 4:52 pm
I shall post this review as a general review, because basically i am not targeting only comfort taxi, but rather all the cab operaters in singapore. What a start to the new year i would say, went to drink at circular road yesterday night after countdown, after that, we thought by walking down to lau pat sat, there will be more cabs, so we walked down, and started waiting, we waited for about 2 whole hours, and not a single cab in sight, all the cabs are either on call or hired, and the best part of the "hired" cabs, there's no one in there. The whole network calling is also total bullshit, pardon me for using such strong words, but i am just trying to reflect the kind of dissapoinment filled with anger at the moment of time. After the taxi fare-hike, we passengers expect a easier time to wait for taxis, there's more cabs around, seems that it isn't this way, shouldn't something be done about those drivers who purposely put their call sign on call, and earn the extra 4bucks, because when we finally called a cab, the cab arrived in less than 1minute, which means its either he so coincidentally was plying the area, or he is "camping" in the area, when we board the cab, i gave no reservations to the driver, and i asked him how come you cab drivers are all on call, and than he was like defending those cab drivers, say don't have, than i was like, its because you drivers want to earn the extra 4dollars right, and he just kept quiet after that, perhaps my tone was abit harsh, plus abit of drunkness in it, but i am still sober enough to rationalise the logic behind this whole thing, work ethnics are vauled everywhere, should there be one for cabs as well.
Rating: **
wenderella, Yebber 08 Jun 2008 at 5:34 pm
The taxi fares are killing my wallet now that it jumps $0.20 each time instead of the old $0.10.
Another gripe I have about Comfort (and all other cab companies in Singapore generally) is that it's either there are too many cabs on the roads, or none at all.
The 'none at all' part conveniently happens when it starts raining. Suddenly all the empty cabs on the road just magically disappear.
Did they go take shelter because their roof is leaking? Are their windshield wipers all spoilt? Are they afraid of the rain? Did they forget to bring their jacket? Are they waiting for desperate customers to call the taxi booking hotline?
We'll never know.
Rating: **
$money$, Yebber 19 Jul 2008 at 8:06 pm
They have the biggest market share and whenever they decide on a rise, the others will follow suit. Now, there is this diesel surcharge!!
But what to do, you need to take taxi and the taxi driver needs to earn a living, still have to pay, but probably have to think before taking a cab. Hopefully, lower demand, the supply of taxis will stabilise (i.e. not any guy just join as taxi driver), thus the taxi drivers will still be able to earn a decent income.
But I simply refuse to call the Comfort taxi hotline. They keep saying their drivers have no right to reject bookings, but I still see "on call" taxis running all over CBD and yet I can't get a taxi!!!!
And, I don't know if it is bacause they have changed their system, now I can't get onto the automated line and always have to wait for the operator. AND the operator also busy and cannot take my call!!!! Waste my $ making the call and listen to music!!!
Now, I only call SMRT taxi hotline as it is automated line and I usually get picked by a driver within a minute, although Thursday and Fridays nights may be hard to get picked (I work in CBD)
Rating: **
qqandanan, Yebber 26 Aug 2008 at 5:32 am
My dad is a Comfort cab driver but I seldom take cabs (unless he is giving me free rides). He has to pay over 900 dollars a week in cab rental so I guess that explains why the taxi fares are getting more expensive. I only take cabs when I need to go to the vet with my pets, to the airport, or out on a shopping spree. Most of the time the cab drivers are friendly and helpful. They will help with the lifting of the luggage or heavy stuff into the boot. Though some Comfort drivers like to take a longer route to earn extra income. The Comfort booking hotline is automated and I love it. It saves me trouble from booking a cab whenever I need it. I have no problem hailing a cab even though I am carrying a pet carrier.
Overall, the cab drivers with Comfort are okay. I have met cab drivers in KL who are simply horrible, rude and greedy.
Rating: ***
103 Responses to Comfort Taxi