Carpooling in Singapore

Car-sharing, ride-sharing, lift-sharing in Singapore: So you travel to and fro work daily, taking the same driving route, bus or MRT route (for the lucky few, cycle or walk). Now how do you get to your workplace without getting too frazzled or squeezing with the crowd in public transport?
Carpooling offers commuters a more direct, more comfortable, and more time-efficient way to commute to work. For owners of vehicles, ridesharing or carpooling, allows them to recover some of the journey cost to pay for petrol and road toll. Not only do you get to know your neighbours better, you get a few more supper 'ka-kis' (friends)!
Through new technology such as mobile app and website, passengers looking for a ride and drivers offering rides can be aggregated into shared transport. If there are alot more passengers than drivers, buses can be chartered ("Bus-pooling").
---
Carpooling in Singapore with Lompang App
Lompang is a carpooling app that pairs you with nearby commuters. Simply type in your start and end addresses, and we will get back to you when we have a potential match. No need for any personally identifiable information whatsoever. In fact we don't even require a login. Just download the app and in 30 secs, you should be able to post your route! You can exchange contact details via the chat messenger when you and the other party are interested and willing to use credits to make contact.
Download Lompang App from iOS Appstore and start saving money on your transportation now!
---
Carpooling in Singapore with Sharetransport.sg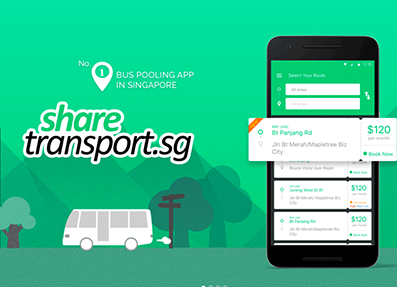 Sharetransport.sg started in March 2012, takes the problem of Singapore transport situation into its own hands. The website and iOS app aggregate people who live in the same estate and work in the same place into shared transport by car-pooling, taxi-pooling or bus-pooling. Currently, the platform is the latest and most prominent with 15,000 users and expects to exceed 20,000 next year.
The platform goal for vehicle owners is that their first trip out of the estate in the morning is to send their neighbours to work.
Sharetransport.sg is one of the 3 social initiatives started by local software house Estatebuzz.com, which includes Blockpooling.sg and Microfranchise.sg.
---
Carpooling in Singapore with Carpool King
Carpoolking.com started in 2007 by 32-year-old New Zealand-based Taiwanese who runs a software business in China, hosts Carpool King.
This car pool platform helps to match carpool and goo in Singapore. Carpool King has more than 15,000 users registered in the region, of which 5,000 are in Singapore.
---
32 Responses to Carpooling