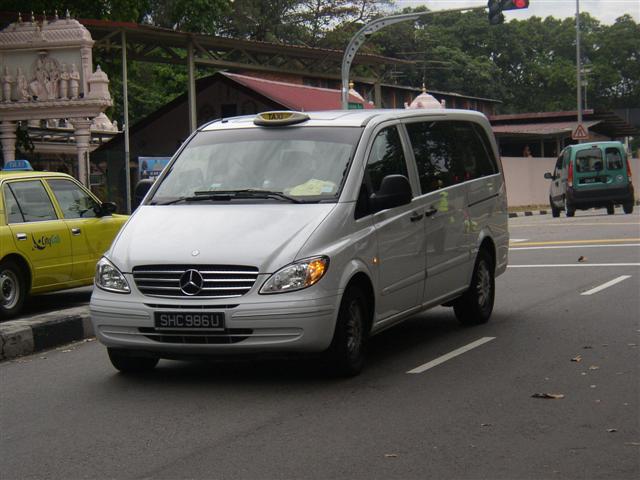 Price: $3.90
One of the largest and most luxurious limousine cab in Singapore, the 7 seater Maxi Cab limo taxi provides you a smooth and comfortable ride to your destination. A top choice for the discerning traveler in you who expects only the best!
Enjoy exclusive use of the Maxi Cab limo taxi for business or pleasure. It is the ideal group carrier, with ample space to fit up to 7 passengers including luggage from S$50 per transfer.
Adapted from Limousine Cab.
Maxi Cab – Metered Service
Comfort Limousine Taxi Booking : (+65) 6552 2828
S$10.00 – Current booking fee (immediate)
S$18.00 – Advance booking fee (30 mins and above)
S$3.90 – Boarding meter fare
S$0.30 – Every 400 metres thereafter or less up to 10 km
S$0.30 – Every 350 metres thereafter or less after 10 km
S$0.30 – Every 45 seconds of waiting or less
Additional peak hour, city area, public holiday, late night, sentosa, ERP (toll charges) and airport surcharges applies
Maxi Cab – Flat Rate Service
Limousine Cab : (+65) 6535 3534

Maxi Cab : (+65) 8368 9737

Limo Taxi Cab : (+65) 6600 9920

Maxi Cab Limousine Singapore : (+65) 8388 3885

Maxi Cab Booking : (+65) 9008 7079

EzyLimo : (+65) 8448 0222

Limo Maxi : (+65) 6535 3534

Maxi Cab Singapore Limousine : (+65) 8368 9737

Alex Limousine : (+65) 9003 2237

Limousine Transport : (+65) 6535 3534
S$55.00 per transfer (point A to point B)
S$65.00 per Airport Arrival Transfer (with meet & greet service)
S$55.00 per Airport Departure transfer
S$55.00 per hour (min. 2 consecutive hours disposal)
Applicable Surcharges
Midnight charge of an additional S$12 per transfer or per hour (00:00 Hrs to 05:59 Hrs) applies
Waiting time charge of $10 per 15 mins block (if any).
Extra stops will be charged at $20 per stop. Maximum of two (2) en-route stops, with the entire transfer to be completed within sixty (60) minutes. Transfer will be charged as a Hourly Disposal service beyond sixty (60) minutes, with a minimum of two (2) hours disposal for Limousine Cabs and a minimum of three (3) hours disposal for Private Limo.
Additional S$10 surcharge per transfer for areas out of the way (i.e. Jurong, Tuas, Kranji Area)
Credit card payment, an additional 10% administrative charge and 7% GST (Goods & Service Tax) surcharge applies.
No additional booking fee, ERP (toll charges), holiday, peak hour , city, airport, parking and/or fuel surcharges.