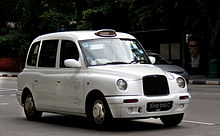 Price: $3.90
With its iconic exterior, the London Cab is probably the most recognizable taxi in the world associated with the distinct quaintness of European style. Now with the TX1 amongst the fleet of taxis in Singapore, passengers can enjoy its extensive range of beneficial features:
An easy-to-use, integral fold-down ramp with extension is designed with a shallow angle for ease of access and departure
A wheelchair retention system that holds wheelchairs firm and secure during transit
A swivel seat to assist people with reduced mobility
Adjustable centre rear seat belt harness to suit younger and smaller passengers (18 kgs and above)
A swing door mechanism for ease of use, greater visibility for traffic upon entry/exit and safer for hands and fingers
Intermediate step that aids movement of passengers with limited movement and mobility
Fitted 3-point seat belts for all seats for extra security
Floor, roof and puddle lighting for safer entry at night. Door handle lights for partially sighted passengers.
Improved voice intercom with repositioned rear speaker and microphones

Adapted from Limousine Cab.

SMRT Taxis Booking : (+65) 6555 8888

S$10.00 – Current booking fee (immediate)
S$18.00 – Advance booking fee (30 mins and above)

S$3.90 – Boarding meter fare
S$0.20 – Every 385 metres thereafter or less up to 10 km
S$0.20 – Every 330 metres thereafter or less after 10 km
S$0.20 – Every 45 seconds of waiting or less

Additional peak hour, city area, public holiday, late night, sentosa, ERP (toll charges) and airport surcharges applies

London Cab : (+65) 6535 3534

Limo Maxi : (+65) 9008 7079

EzyLimo : (+65) 8448 0222

EzyMaxi : (+65) 8268 9918

Limo Taxi Cab : (+65) 8368 9737

Alex Limousine : (+65) 9003 2237

Limousine Cab : (+65) 6535 3534

S$45.00 per transfer (point A to point B)
S$55.00 per Airport Arrival Transfer (with meet & greet service)
S$45.00 per Airport Departure transfer
S$45.00 per hour (min. 2 consecutive hours disposal)

Applicable Surcharges

Midnight charge of an additional S$12 per transfer or per hour (00:00 Hrs to 05:59 Hrs) applies
Waiting time charge of $10 per 15 mins block (if any).
Extra stops will be charged at $20 per stop. Maximum of two (2) en-route stops, with the entire transfer to be completed within sixty (60) minutes. Transfer will be charged as a Hourly Disposal service beyond sixty (60) minutes, with a minimum of two (2) hours disposal for Limousine Cabs and a minimum of three (3) hours disposal for Private Limo.
Additional S$10 surcharge per transfer for areas out of the way (i.e. Jurong, Tuas, Kranji Area)
Credit card payment, an additional 10% administrative charge and 7% GST (Goods & Service Tax) surcharge applies.
No additional booking fee, ERP (toll charges), holiday, peak hour , city, airport, parking and/or fuel surcharges.